Division
Other References
"The fact that transmission went without any hitches speaks for itself."
Andreas Derksen, Head of Motorsport at _wige MEDIA
Contact
LWL-Sachsenkabel GmbH
Phone: +49 3721/3988-0
info [at] sachsenkabel.de
www.sachsenkabel.de
euromicron subsidiary Sachsenkabel supports transmission of race data in Formula 1
Transmitting image and telemetry data captured during a Formula 1 race places maximum demands on all network components. At the first-ever Russian Grand Prix in Sochi in 2014, mobile fiber-optic cable drums from euromicron's subsidiary Sachsenkabel helped ensure smooth data transfer.
The Formula 1 World Championship, which is currently staged in 19 races on a total of 5 continents, is regarded as the top competition of its kind in the racing world. The requirements demanded in terms of driving skills, technology and funding are well in excess of those in any other series and are met only by a small group of pilots and racing teams. Yet it is not only the cars, drivers and outfits that have to meet the very highest demands. The technical installations along the track also have to withstand extremely high stresses and strains. For example, the video surveillance cameras and electronic timing equipment have to record what happens in the race in precise detail and also keep on working even in inclement weather conditions. The same goes for the network technology that is used to transmit the image and telemetry data to the stewards and the TV stations. Here, too, rugged and reliable components that ensure impeccable transmission even in harsh conditions are a must.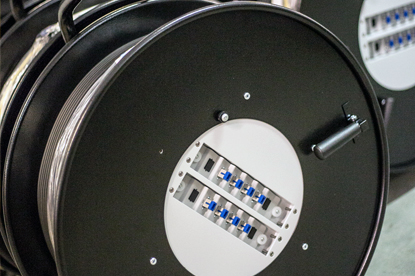 The task of implementing networks to meet these requirements is usually assumed by media technology specialists with many years of experience in the motor racing arena. At the first-ever Russian Grand Prix, which was held at the Black Sea resort of Sochi on October 12, 2014, it was the German company _wige  MEDIA AG that was responsible for setting up the data links. Since storms and heavy downpours were to be expected at this time of the year in Sochi, one special challenge was to provide highly rugged technology that could not be impacted by rain, wind and cold. _wige MEDIA decided in favor of a temporary fiber-optic network comprising high-quality mobile components that ensured optimal transfer rates and could also be reused at future racing events. As part of that, _wige relied on fiber-optic cable drums from its longstanding business partner LWL-Sachsenkabel GmbH. The euromicron subsidiary from Gornsdorf/Saxony had already been integrated in implementing several demanding media broadcasting solutions and had always proven to be a supplier of high-performance cabling components.
Sachsenkabel delivered fiber-optic drums of the type HT 582 for Sochi. They were fitted with 450-meter fiber-optic cables that were preassembled with SC connectors, are extremely tread-proof and temperature-resistant thanks to an outer sheathing made of polyurethane and also do not exhibit any increased signal attenuation if the bend radii are below the usual values. They are thus an ideal solution for network connection of the measurement points and cameras along the track. A particular advantage was the distributor panel integrated in the drum's side: It permits direct connection of the active equipment by means of patch cables, eliminating the need to use delivery boxes. That enabled rapid setup and dismantling of the data links. Consequently, the temporary cabling tied up only few human resources.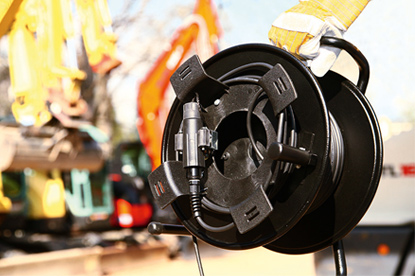 Use of the fiber-optic drums also went smoothly. The stewards and viewers in front of the TV – 4.14 million in Germany alone – were able to rely on smooth transfer of the image and telemetry data at all times during the race. _wige was therefore happy: "The fact that transmission went without any hitches speaks for itself," says Andreas Derksen, Head of Motorsport at _wige MEDIA. "Once again, LWL-Sachsenkabel was able to impress with its dynamic and customer-centric project support. We'll definitely include the cable drums in our planning for future orders."