Integrity in corporate governance means acting morally and legally responsible for the Executive Board of euromicron AG, especially in dealing with executives and employees as well as with all business partners. These maxims are actively practiced by the Executive Board, the Supervisory Board and the employees and have found their way into the company's Code of Conduct. This forms the basis for a consistent ethical understanding in the Group.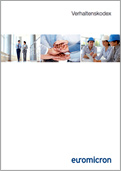 Code of conduct
Code of conduct (PDF, 1.4 MB)
---
Whistleblower system (Ombudsman)
As a protected communication channel for employees and stakeholders, euromicron appointed Dr. Peter Braun, lawyer at the Frankfurt office of the international law firm Dentons as external ombudsman.
All those affected can confidently and anonymously turn to this neutral body if they observe the suspicion of incorrect business practices.
Kanzlei Dentons
RA Dr. Peter Braun
Phone: +49 69 450012 499
e-mail: euromicron-hinweisgebersystem [at] dentons.com